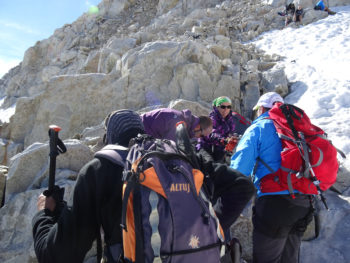 In addition to dressing correctly and takingall the necessary safety equipment, it is essential to have a suitable rucksack, one that is comfortable (you are going to be carrying it for over 10 hours, after all – see Times) and big enough to hold everything you need to climb Aneto.
A rucksack with a 30 to 45-litre capacity will be perfect for this type of single-day activity (or even for two days, spending the night warming up in a refuge).
What do i need to take in my rucksack when
Warm clothes: the weather may change in an instant, and it is cold at dawn even in summer.Thermal clothes: take several layers with you, including a raincoat or windbreaker, woolly hat and gloves (see What to wear).
Ice axe and crampons: in order to reach the summit, you will need to cross over Aneto Glacier. These tools are a must for progressing safely and for self-arresting in the event of a fall (a helmet is also recommended).
Food and water: it takes over 10 hours of intense physical activity to reach the summit of Aneto and get back down, and you will have to replenish the energy reserves and fluids that you lose throughout the journey. Eat whenever you are hungry and drink before you feel thirsty.
Also essential…Get
Mobile phone: use it to call for help in the event of an accident or to inform of any delays. Take a portable charger as the battery can die quicker in areas with no signal or due to the cold. Check the 2G signal coverage on your route to Aneto.
Map, compass and GPS: use them to make sure you do not get lost. A 1:25,000 topographic mapwill keep you on the right track. You can download this map containing useful information for climbing Aneto on the Montaña Segura website. A compass will ensure that you are following the map correctly. AGPS device (or even yoursmartphone) adds an extra level of security to the tried-and-tested map-and-compass method. Make sure that you have installed an app that allows you to display a track on top of a map. This is particularly useful on foggy days and in the dark. However, remember that technology can fail you, break or run out of battery, so never leave your physical map at home!
A first aid kit to treat minor injuries (scrapes and bumps, etc.). Add a thermal blanket to your kit to keep someone who has had an accident warm while waiting for the rescue team to arrive.