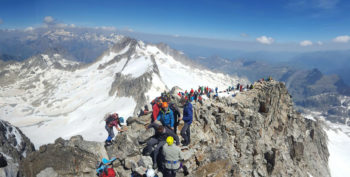 Puente de Mahoma, a 40-metre-long horizontal pass with a sheer drop on either side, separates the peak from the sub-peak. In addition, it is the final hurdle that you have to overcome before summiting Aneto.
Albert de Franqueville, one of the first men to climb to the top of Aneto, baptised this section of the mountain and gave it its name "Thinner than a hair and sharper than a sword" is how the legend goes: the entrance to paradise and the summit of Aneto, as witnessed first-hand by Franqueville.
What makes this pass particularly dangerous is:
The vertical drop on both sides and the inevitable feeling of vertigo. A fall would be fatal.
During some parts, you have to use your hands in order to keep progressing.
The potential amount of people waiting to cross the pass. Every mountaineer who climbs Aneto must cross this pass twice: once on the way up and once on the way back down. Certain parts of Puente de Mahoma are so narrow that there is not enough space for two people to pass. Be patient.
The possible presence of water, ice and snow, which makes the pass even more slippery.
The exposure to lightning during storms.
For these reasons, you should not attempt this section of the climb if you are not completely confident in your ability; nobody will force you to go across. Accumulated fatigue and nerves make for a bad combination that can end in death.
Can I make Puente de Mahoma safer with a rope?
If you are wearing a harness, hard hat and a rope, you can make it safer to cross, but remember that to do so you will need to use the proper techniques. If you are not entirely sure, look at hiring the services of a professional guide to ensure that you will make it across.
Getting to the summit is not the most important thing in the world; what is important, however, is getting back safe and sound and enjoying the activity. If you reach Puente de Mahoma and you find it nerve-wracking… just enjoy the views from the sub-peak! Do not get yourself in a twist over a few extra metres of climbing.