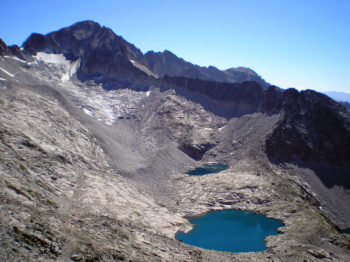 The route up the southern face begins at Puente de Coronas (1,995 m) in Vallibierna Valley, at the unmanned Coronas, or Les Riberetes, refuge which offers radio support. Find out how to reach Puente de Coronas here.
Southern route
From Puente de Coronas (1,930 m), follow the GR 11 route for five minutes before heading off up Coronas Valley on a marked path until you reach Ibonet de Coronas (2,230 m, 1 hr).
From now on, you will be in the high mountains, with the trail becoming less defined. Instead, you will have to pay attention to the stone markers that will indicate the way. Once you get to Cresta de Llosas, continue first to Ibón Baixo de Corones lake (2,630 m, 1 hr and 10 min), before heading north-east to the Altos de Coronas lakes (2,740 m, 30 min).
circo de Coronas
Once you have reached the Altos de Coronas lakes, keep to the left of the glacial moraine until you reach the base of Collada de Coronas(3,208 m, 1 hr and 25 min). Before you reach the mountain, you must first climb up a crack in the rock, a task that can be complicated if there is snow on the ground.
At Collada de Coronas the southern route joins up with the route up the north face,which starts at La Besurta and La Renclusa refuge.
Depending on the time of year, you may not find snow until you reach Collada de Coronas, but this marks the point where you enter Aneto Glacier, so you must now equip and use your crampons, ice axeand helmet. Do not continue to the glacier if you do not have this material with you or if you are not trained in its use. Hire the services of a mountain guide to help you if this is the case.
From Collada de Coronas (3,208 m) you will climb the steepest part of the glacier up to the sub-peak and, once there, up to the summit of Aneto (3,404 m, 40 min).
Puente de Mahoma
Puente de Mahoma is the final obstacle that you must overcome before reaching Aneto. It is a narrow and exposed horizontal section where you have to climb up some rocks. During the final few metres, you may experience a feeling of queasiness; however, do not continue if you are afraid of heights. The amount of people on the pass and accumulated exhaustion may affect your safety while there. The sub-peak is also a breathtaking recompense.
Return
To get back down, you will take the same route back to Puente de Corones (3 hr and 30 min). You also have the option of going down thenorthern route to La Besurta and then taking a bus back to Plan de Senarta from there. Don't forget to check the timetables if you opt for this alternative.
| | | | | | | |
| --- | --- | --- | --- | --- | --- | --- |
| | Time partial | Total  time | Partial incline | Total incline | Partial distance | Total Distance |
| Puente Corones – Ibonet de Corones | 1 h | 1 h | + 290 m | + 290 m | 1,6 km | 1,6 km |
| Ibonet de Corones – Ibón Baixo de Corones | 1 h 10 min | 2 h 10 min | + 390 m | + 680 m | 1,1 km | 2,7 km |
| Ibón Baixo de Corones – Ibones de Corones | 30 min | 2 h 40 min | + 110 m | + 790 m | 0,7 km | 3,4 km |
| Ibones de Corones – Collada de Corones | 1 h 25 min | 4 h 5 min | + 460 m | + 1250 m | 1,7 km | 5,1 km |
| Collada Corones – Pico Aneto | 40 min | 4 h 45 min | + 200 m | + 1450 m | 0,6 km | 5,7 km |
| Return | 3 h 30 min | 8 h 15 min | – 1 450 m | +/- 1450 m | 5,7 km | 11,4 km |