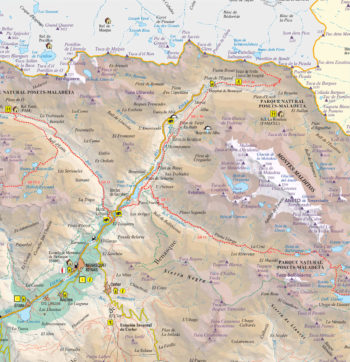 Benasque Valley is hidden away in the north-east corner of Aragon, in La Ribagorza county, right in the heart of the Pyrenees.
Benasque Valley
The valley is made up of 26 settlements which are grouped into seven municipalities, with the largest being the town of Benasque.
Nowadays, the traditional way of life high up in the mountains is shared with a booming adventure and nature tourism industry. Canyoning, climbing, hiking, walking, paragliding and mountain expeditions are just a few of the countless activities that adventure tourism companies offer visitors to the valley. During the winter months, the resort for Alpine skiing, Aramón Cerler, and the resort for cross-country skiing, Llanos del Hospital, ensure that snowsport aficionados are taken care of.
A wide range of services – with everything from hotels, hostels and refuges to restaurants and bars – guarantee that visitors have plenty to do.
A valley amidst mountains
Benasque is home to the greatest concentration of mountains measuring over 3,000 metres in the entire range, with over 100 such peaks across the massifs of Posets, Perdiguero and Maladeta. The latter is where you can find Aneto, which – standing at 3,404 metres tall – is the highest point of the Pyrenees.
The lofty summits provide clear evidence of the work carried out by ice in bygone millennia, all of which make up the Natural Monument of the Pyrenean Glaciers found inside the Posets-Maladeta Natural Park.
During the summer season, Aneto becomes the focal point of mountaineers who come from all over to climb to its peak, with the most popular routes being up the south face, starting at Puente de Coronas, and up the north face, starting at La Besurta (while spending the night in the comfort of La Renclusa refuge).
However, Benasque Valley is not just an ideal spot for mountaineers looking to tick Aneto off their bucket lists; if you love nature and mountain landscapes, the valley offers endless activities that you can take part in all year round.