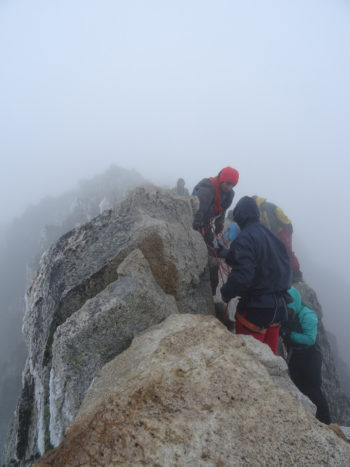 The majority of the route takes you over high-mountain terrain, where progression is complicated and there is a lack of signage and defined paths. If you are not used to walking on this type of surface, get some practice in before attempting to climb Aneto to ensure that you will be fine when you get there.
Is the route marked all the way to the summit?
On the northern route, only the first part of the ascent features paint markings and signposts, as the route follows the Posets-Maladeta Natural Park S2 trail and the GR 11.5 trail from La Besurta until turning off towardsLa Renclusa refuge. After the refuge there are NO paint markings, signposts or obvious trail, with the only thing guiding you being the stone markers and your ability to navigate yourself up the mountain.
Algo parecido pasa con la ruta norte por el Salterillo, señalizada con marcas del GR 11.5 y S2 del Paque posets-Maladeta desde La Besurta hasta el Plan d´Aigualluts y sólo con las del GR 11.5 hasta el desvío para el Ibón del Salterillo. A partir de aquí sólo encontraremos algún hito en el camino de vez en cuando.
The southern routefollows a defined route, although there are no paint markings, until Ibonet de Coronas. From this point on there is NO obvious trail  and, again, you will have to follow the stone markers.
In both cases, it is very likely that at some point you are faced with multiple routes (several paths marked by stone markers). None of them are necessarily better or worse; you will simply have to choose one to follow.
How do I follow the route?
In the high mountains, you must be used to reading the route and following the stone markers that sporadically lead the way.
Depending on the time of year, the route and the stone markers may be covered with snow, in which case you will have to decide in which direction you wish to walk. Everything may become suddenly shrouded in fog halfway up your ascent, greatly hindering your ability to find your way.
A topographic map, compass and GPS with the track loaded onto it (Northern Route track – Southern Route track) are a few things that you should not leave home without.
It can be tiringto navigate your way through the blockfields and scree. Take your time, do not go too fast and progress calmly; you will get less tired and you won't waste as much energy.
Take care in the canyon near Cresta de los Portillones, paying special attention to your orientation and to not get caught on the top of the ridge, as there is a high risk of falling.
Are there any other difficulties?
Once you reach the ice or snow, take your crampons, ice axe and helmet out of your rucksack. Remember that it's not just a matter of taking them with you, you also need to know how to use them.
When you reach the sub-peak, you will still have to cross over Puente de Mahoma. Don't rush: the crowds of people crossing, the sheer drop on either side of the pass and the need to use your hands to get over can make you nervous and hesitate. If you are unsure whether you can cross over, enjoy the view from the sub-peak instead!
The fun doesn't stop at the summit. Now you have to get back down. It is a long way down and you are tired; the physical effort and the altitude will start to take their toll on the descent. Do not relax or let your guard down yet, as many of the accidents that occur on Aneto happen on the way down.