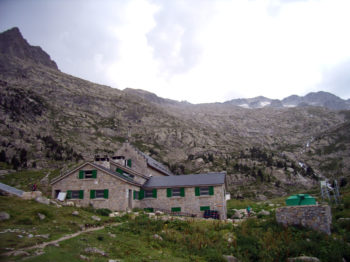 La Renclusa refuge is located on the north face of Maladeta Massif, which stands at 2,410 metres tall, within the boundaries of the Posets-Maladeta Natural Park.
La Renclusa
Just 50 minutes from La Besurta, the starting point for the route up the north face, it is the perfect place to spend the night and acclimatise your body to the altitude.
Spending the night in La Renclusa helps prevent acute mountain sickness (AMS), or altitude sickness. The effects of AMSkick in at altitudes above 2,500 metres, and it can make it difficult for you to summit Aneto.
What does the refuge have to offer?
La Renclusa is open all year round. There is space for 92 guests, in addition to showers, a bar, food service, blankets and lockers. It is also home to a nurse's office and an automated external defibrillator (AED).
The staff there will be able to provide you with informationon the route conditions. You can use their website to:
If you are going to spend the night at the refuge, remember that you must takea sleeping bag (blankets are available).
The refuge is co-managed by the Aragonese Mountaineering Federation (FAM), the Centre Excursionista de Catalunya (CEC) and Benasque Town Council. It provides services for mountaineers at Maladeta Massif.