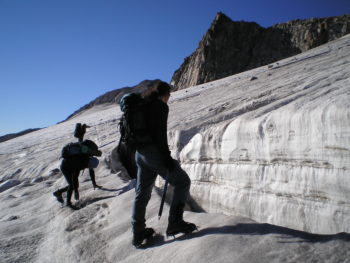 In order to reach the summit of Aneto, you first have to overcome a 1,500-metre climb, a labyrinth of blockfields, ice and snow (whichever route you choose), greatly fluctuating temperatures and sudden changes in weather. As a result, it is vital to make sure you are wearing suitable clothing and that you have all the equipment you need to get to the summit in one piece.
Body
The most efficient way to dress for sporting activities in the high mountains is to use a layering system by wearing several different layers of clothing, depending on the meteorological conditions.
First layer: this is the layer that is in contact with your skin. Its goal is to keep out the humidity (sweat) that your body generates when exerting yourself, while also being able to dry quickly. Fabrics made from synthetic fibres are the best option, while you should avoid those made from cotton, as they can get too wet and take a long time to dry.
Second layer: this layer is for keeping in the heat generated by your body, and may include a fleece, vest or jacket (again, synthetic fibres are recommended).
Third layer: this layer protects your body against the outdoors – wind and rain can render your first two layers ineffective if you fail to properly protect yourself. A water- and wind-proof layer is vital for activities in the high mountains. If you don't have one on, you must at least take one with you in your rucksack.
A down jacket makes a great choice thanks to the great amount of heat it provides – it will help keep you comfortable when you stop, and it can also shelter you in an emergency. Check the freezing level in the weather forecast to get an idea of the cold you will have to withstand. Remember that the first snowfall of autumn usually falls in August in the Pyrenees.
Wear long walking trousers (synthetic, comfortable and quick-drying) as even in summer, high-mountain areas can still get cold. Trousers help protect you from the early-morning cold, ice burns due to falls on the glacier, the sun, and scrapes and scratches in block fields, among other things.
Head and hands
Another essential piece of kit is a woolly hat (just a thin one will do) to keep heat from escaping through your head, and a cap to protect you from the sun. You will also need gloves, particularly for holding your ice axe when manoeuvring through the glacier, and they also come in handy in case of abrupt changes in temperature. Remember that you will be walking at an altitude of over 3,000 metres, so even if you go in summer it will still be cold.
Feet
To climb the Aneto, the most suitable shoes are mountain shoes. In addition, it must be a boot that allows the attachment of crampons.
Never attempt to climb Aneto in low shoes or trainers, whether hiking or trail running shoes. The entire ascent passes over high mountain areas, and part of it over Aneto Glacier. Low shoes WILL NOT protect your ankles against sprains or bumps from the rocks. What's more, high mountain crampons cannot be securely fastened to low shoes.
Now that we have ruled out low shoes and trainers, next you have to decide between boots with a flexible sole (hiking boots) and those with a semi-rigid sole (high-mountain boots). Flexible boots provide greater comfort and transpiration, although they tend to be less waterproof and made from a softer material (you will be able to feel the rocks beneath your feet when walking in the high mountains). Semi-rigid boots offer both greater insulation and stability on tricky terrain and climbs.
Regardless of the model you opt for, always remember that:
The sole must be in perfect condition, with its pattern being plain to see.
It's better to choose boots with a waterproof membrane.
Your boots must be broken in; don't put on a new pair the same day that you set out on a long and/or demanding excursion!
Socks that are tall enough to protect against the collar of your boots. Take a spare pair with you in your rucksack to change into in case of excess sweating or if your boots become wet.