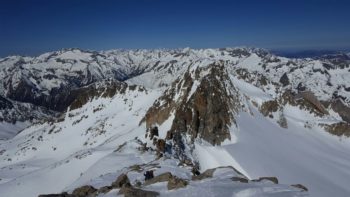 In addition to the "normal" routesup the north face from La Besurta  and up the south face from Puente de Coronas, there are several other ways for you to get to the top of Aneto.
They all have a greater level of technical difficulty, but it is definitely worth highlighting them as they are some of the greatest and most classic climbs found in the Pyrenees.
Aneto via other routes
Cresta de Salenques – Tempestades. This is an extremely demanding option both physically and technically, which takes you through the entire mountain range to the south-east of Aneto. You will have to walk three kilometres across mountain tops, with stretches of climbing and plenty of exposed terrain. After already summiting several three-thousanders, you finally reach Aneto (climbing route).
Cresta de Llosas. Cresta de Llosas is another classic climbing route across the mountain range. It is not as long as the Salenques – Tempestades option; instead you will ascend Aneto by climbing up among the rock formations found on the southern face (climbing route).
Estasen Corridor. A classic snow corridor opens out onto Aneto. A 300-metre climb up the south-east face of Aneto with gradients of up to 50 degrees, making it an ideal choice for experienced mountaineers, provided that the conditions are perfect (winter corridor).
Alpine skiing. There are numerous options for reaching the top of Aneto on skis, which you can find out more about by visiting this link.
REMEMBER THAT THESE ROUTES ARE MORE PHYSICALLY AND TECHNICALLY CHALLENGING THAN THE "CLASSIC" ROUTES UP ANETO!